Back
April 17th, 1999
Simcity.com put up a few new cheat codes. I've got them in my cheats section as well.


April 14th, 1999
New Poll! Spending too much time on SimCity?? Take the poll, just to the right and below!


April 7th, 1999

Running SC3000 in a window, and information on building an efficient transportation system; 2 new articles in the hints section.


April 5th, 1999

If you've missed it, the April Fools takeover of the Maxis site by the Sims can still be seen at Simcity.com, at this page here. Click anywhere on the page to see a sort of protest/advertisement with some screenshots of "The Sims" Maxis' upcoming game.

[Sample Screenshot]

Also @ Simcity.com, a letter from Luc Barthelet explaining the mysterious Sim takeover, here (April 2nd).


April 2nd, 1999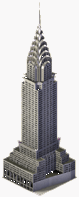 Simcity.com releases Landmark Pack #3. This one includes the Chrysler Building (picture) from New York, New York, and the John Hancock Center from Chicago. Both are towering skyscrapers and look very nice. Download the pack from maxis here.


April 1st, 1999

Whoa! Those guys at Simcity.com have really messed with the site for April Fools! There is grafitti all over the page supposedly representing an outcry from the Sims for a new game.......



to top

Comments and questions mailed to
durapoop@canada.com